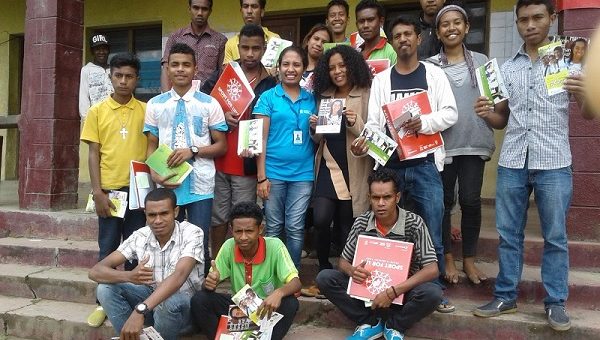 Sport for Life Newsletter | July 2017
Sport for Life is catching fire! In Timor-Leste, youth volunteers organized more activities in the last 6 months than in the previous 2 years. In Cabo Verde, the National Olympic Committee has taken leadership continuing the project with M-Olympics, focusing on gender equality. We are discussing launches in new countries, leveraging the new Sport for Life Manual & Startup Kit, and looking for volunteers to make it happen. To better visualize all this activity, we've launched the Sport for Life Map.
Sport for Life has by now trained over 2,000 youth and sport leaders and engaged more than 25,000 kids in multi-sport activities in Timor-Leste and Cabo Verde.
You can download our Annual Report 2016 and watch UNESCO's videos on Sport for Life.
Thanks to all our partners and volunteers, particularly to UNESCO, Peace and Sport, INOV Contacto, and the Cabo Verde Olympic Committee.
Timor-Leste: true inclusion of remote areas
Since December SportImpact organized four Youth Leadership Camps: #2 in Dili (Nov 29 to Dec 10), #3 in Balibar (Aileu, Mar 27 to Apr 8), #4 in Maubisse (Ainaro, Apr 17-29), #5 in Maubara (Likisa, June 26 to Jul 8), training 69 young volunteer facilitators. Graduates have been boosting Sport for Life, spreading the volunteer movement to include even more remote areas of the country (check the map!). In 2017 alone, volunteers have independently organized, with almost zero resources, about 40 Sport for Life initiatives in 9 municipalities, training over 700 participants and engaging more than 5,000 kids in multi-sport activities.
We also ran a pilot of a Master Facilitator Training, in Camea (Dili), from May 29 to June 3, to test a model to train trainers of trainers – i.e., facilitators for Youth Leadership Camps.
Cabo Verde: M-Olympics promoting gender equality
In Cabo Verde, the National Olympic Committee is taking Sport for Life forward, with funding from Olympic Solidarity and support by SportImpact. After focusing on environmental sustainability in 2016 with VerdeOlympics, in 2017 the focus is on gender equality, with M-Olympics. As last year, the project will go to all islands, but this time courses are facilitated by local facilitators, trained in SportImpact's train-the-trainers last December.
M-Olympics kicked off in Tarrafal (Santiago island), in 24 -29/Apr, has been to Maio (22-28/May), São Nicolau (19-24/Jun) and Brava (3-8/Jul), and will mobilize the other five islands until end of the year: Fogo (14-19/Aug), São Vicente (18-23/Sep), Sal (16-21/Oct), Santo Antão (13-18/Nov) and Boa Vista (04-09/Dec).
To learn more, consult the Cabo Verde Olympic Committee's website and Facebook page.
Sport for Life Manual & Startup Kit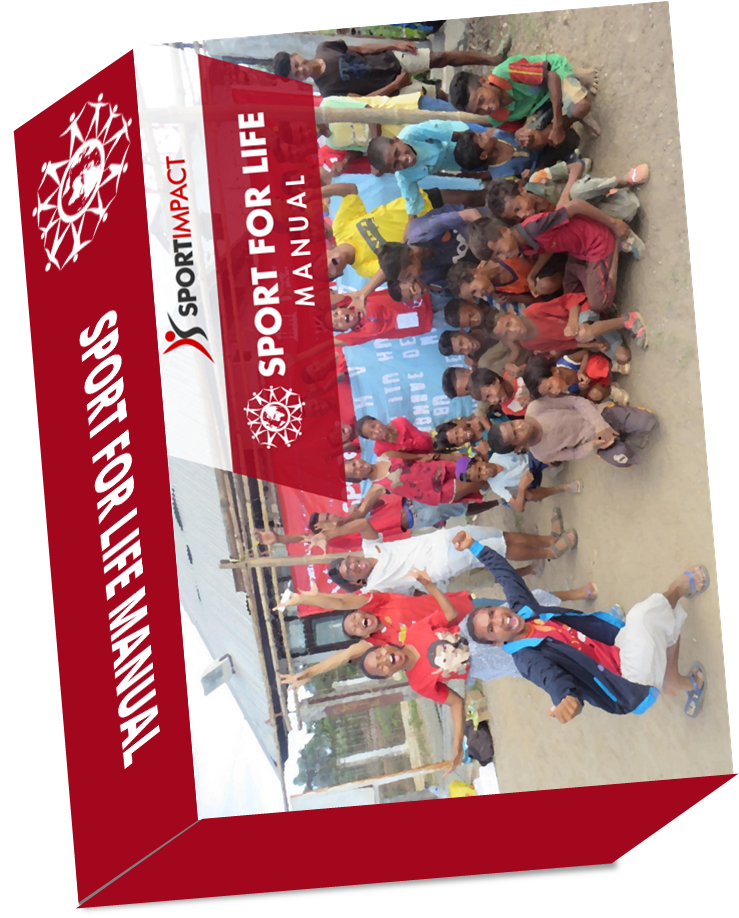 We're launching the Sport for Life Manual – a how-to guide to kick-off and manage a Sport for Life initiative easily anywhere. It includes a chapter on facilitation skills and access to all Sport for Life Course modules, with detailed guidelines on how to facilitate them for maximum participant engagement and empowerment! It is ready in Portuguese and the English version should be available in a few weeks.
The Manual is part of the Sport for Life Startup Kit, which also includes the Sport for Life Drive – a library of ready-to-use documents to help anyone start Sport for Life in zero time! Dozens of editable materials such as forms, check-lists, templates, etc., to make your job easier.
For those interested in SportImpact support to launch a Sport for Life initiative, we can send one of our International Master Facilitators to train your trainers. In a couple of weeks they will build local capacity to run Sport for Life initiatives and train local organizers to multiply the effect around the country. Please express your interest by filling this application form.
Sport for Life Map
You can now visualize Sport for Life activities around the world (Timor-Leste and Cabo Verde for now) on the Sport for Life Map. Click on the Sport for Life icons on the map to get more information about each initiative (facilitator name, number of participants, % women, number of kids in events, number of sports, etc.)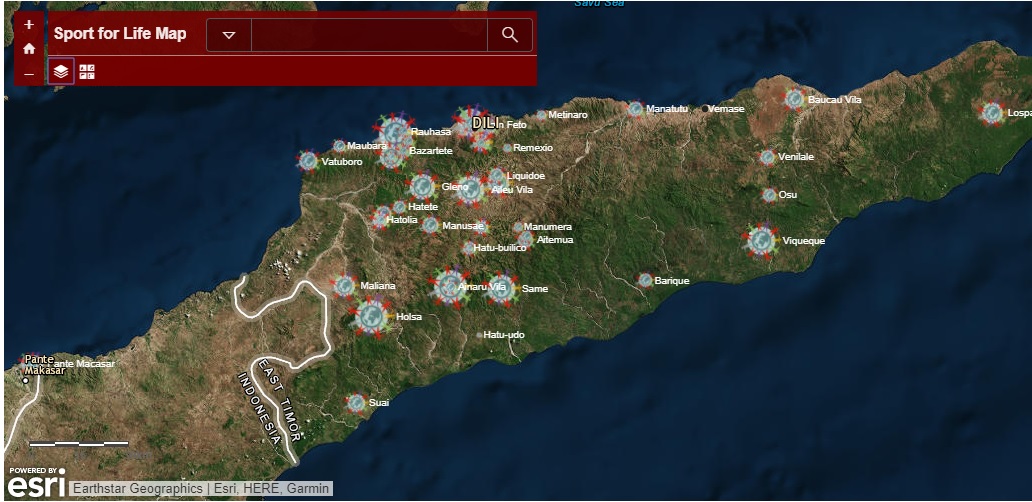 Volunteer opportunities
Something unseen happened in February when Virginia and Silvina (SportImpact only employees until then, in the sense of receiving a salary) informed they decided to become volunteers. They felt it was unfair to earn a salary when others volunteer so hard, and stopped receiving a salary while still working with the same commitment to Sport for Life. Wow!
So we are currently a 100%-volunteer organization and look for other passionate, committed and reliable volunteers to help spread Sport for Life. Roles can be fully home-based with part-time or full-time dedication. We currently have the following key opportunities, but please feel free to propose your ideas:
Marketing & Communications (6+ months; part-time; home-based) – flexible work, focusing on collecting and spreading news about Sport for Life around the world;
Impact Assessment (6+ months; part- or full-time; some project country time required) – requires the ability to drive impact assessment work in;
Sport for Life Multiplier (2-6 months; full-time in project country) – requires high levels of proactivity preparing the groundwork to launch Sport for Life in a new country, including building connections with local stakeholders, obtaining funding, recruiting the first course participants and facilitators, etc.
In Timor-Leste (based in Dili, ideally Timorese volunteers):
Volunteer Manager (6+ months; 50-100% dedication) – a human relations person! Loves to understand what drives each individual, and create opportunities for everyone to develop with high motivation and happiness levels, while ensuring project results
Project Manager (6+ months; 50-100% dedication) – must be obsessed by calendars, workplans, deadlines and accountability; will help ensure we 'just do it' and maximize impact in Timor-Leste with available resources
Stakeholder Manager (6+ months; 25-100% dedication) – loves connecting with multiple stakeholders; will stimulate collaboration and bring them together through Sport for Life, contributing in courses, events, etc.
Click here to learn more. Do follow up if you are really interested and don't hear from us soon.
Annual Report 2016
Check our Annual Report 2016 for detailed lessons from Timor-Leste, where we launched phase II empowering local volunteers to replicate the project, and from Cabo Verde, our internationalization pilot.
UNESCO videos
Our partner UNESCO produced a video coverage of our Youth Leadership Camp, watch them here:
Thanks to our key partners and volunteers
All this would not be possible without the generous support of our partners and volunteers, to whom we thank deeply:
UNESCO for providing financial support to Sport for Life in Timor-Leste and the video coverage of the Youth Leadership Camp
Peace and Sport for financial support in Timor-Leste and Cabo Verde and for the Adapted Sport Manual
Cabo Verde Olympic Committee for the super productive partnership launching Sport for Life in Cabo Verde during 2016, and taking ownership for sustainable continuation in 2017
AICEP – INOV Contacto for the consultant who has been developing the Sport for Life Manual & Startup Kit
Sport Dili e Benfica for our headquarters in Dili
All the Youth Leadership Camp partners who contributed with sessions and resources, including: Marie Stopes Timor-Leste, Plan International, CARE International, ChildFund, Aliansa Nasional Kontrola Tabaku, Permatil, Klamar Band, Belun Ba Comunidade Modern Pentathlon International Union, local administration and communities in Balibar, Maubisse and Maubara, as well as in all Sport for Life locations around the country
All youth volunteer facilitators who organized the 40+ Sport for Life Courses and events in Timor-Leste in the first half of 2017, and all other volunteers
About SportImpact
SportImpact is a social enterprise that promotes human development through sport, with projects in Timor-Leste and Cabo Verde. SportImpact welcomes new partners and sponsors, in particular to launch Sport for Life in new countries.
About Sport for Life
Sport for Life is a volunteer movement of youth empowering themselves to take charge of their lives, their communities, their countries and the world. Through sport, we are creating a world where everyone is empowered to fulfill their potential, their purpose, their dreams.
The Sport for Life project is composed of two key activities:
Youth-led Sport for Life courses and train-the-trainers plus practical project roles where youth gradually develop as managers, facilitators and leaders;
Youth-organized multi-sport, multi-theme activities allowing kids to sample different sports and experiences that teach positive values and habits;
For more information about Sport for Life and Sportimpact:
www.sportimpact.org | www.facebook.com/sportimpact.org | SportImpact TV on Youtube | Annual Report 2016
Contacts: press@sportimpact.org | Tel. +670 7801 4000