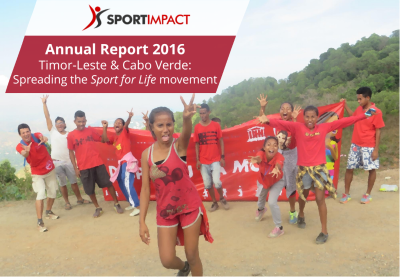 SportImpact Annual Report 2016
Click here to download the complete SportImpact Annual Report 2016 in best resolution (26Mb).
To download a low resolution version in two files click here:
. Report (4Mb): Executive Summary (see below), Sport for Life, Our Impact, Financials, Key Lessons, Priorities
. Appendix (7Mb): Cabo Verde Sport Map, Spreading Ideas, Photos from Timor-Leste, Photos from Cabo Verde
For those in a hurry, here is the Executive Summary:
WHAT WE DID: In 2016 SportImpact focused on spreading the Sport for Life movement of empowerment through sport. We launched phase 2 in Timor-Leste and took the project to Cabo Verde.
In Timor-Leste:
24 facilitators from municipalities graduated from two Sport for Life Youth Leadership Camps
Volunteer facilitators organized 12 Sport for Life editions at nearly $0 cost

Total of 294 participants in workshops (44% women) and almost 2,300 kids in events
In Cabo Verde:
9 one-week Sport for Life workshops and events in all inhabited islands, with a total of 312 workshop participants, and 5,000+ kids trying an average of 18 different sports per event

11 independent event replications by workshop graduates reached 6,000+ extra kids

17 facilitators from all islands graduated from a Train-the-Trainers

Produced the 'Cabo Verde Sport Map', a fact-based assessment of Cabo Verde sports, identifying key data, needs, goals & recommendations, and shared it with Minister of Sport
KEY LESSONS: Sport for Life is moved by human energy and it's possible to grow it with ~$0 through a volunteer movement of people motivated to develop themselves and others. The project is flexible and adaptable to different realities. To ensure consistent replications we need to test and codify what really matters to achieve best impact (while keeping the approach flexible).
PRIORITIES: SportImpact's key priority is to develop and scale up Sport for Life, streamlining processes and costs towards human and financial sustainability.
THANKS! We appreciate all the collaboration and support from our partners and volunteers who make all this possible, in particular UNESCO, Cabo Verde Olympic Committee, Peace and Sport, and INOV Contacto.
If you prefer videos you may want to watch on SportImpact TV one of the videos that UNESCO kindly produced on our Sport for Life Youth Leadership Camp.