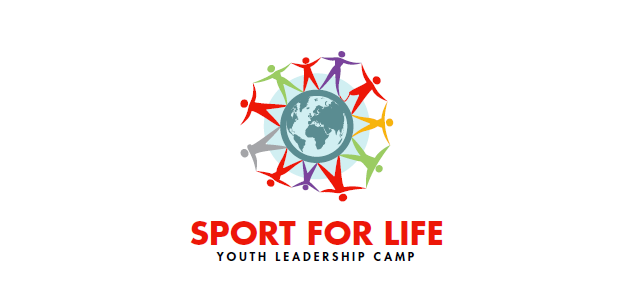 First Ever 'Sport for Life Youth Leadership Camp'
PRESS RELEASE
Dili, Timor-Leste · Friday, 29 July 2016
SportImpact organized the first ever
'Sport for Life Youth Leadership Camp' in Dili from July 4 to 16th,
training young facilitators from 10 Timor-Leste municipalities
SportImpact organized its first 'Sport for Life Youth Leadership Camp' from July 4 to 16th, at Marie Stopes Timor-Leste's facilities, in Lecidere, Dili, Timor-Leste. It was a train-the-trainer for 26 young facilitators (30% women) from 10 Timor-Leste municipalities, empowering them to replicate the project in their communities in the coming months. [Press here to read more about the Camp and SportImpact's legacy strategy.]
Participants engaged in an intense programme over two weeks, with over 100 hours of diverse activities, including engaging workshops with peer facilitation, cultural and sport activities, and over 20 guest speakers, facilitators and coaches from different organizations (programme in the image below).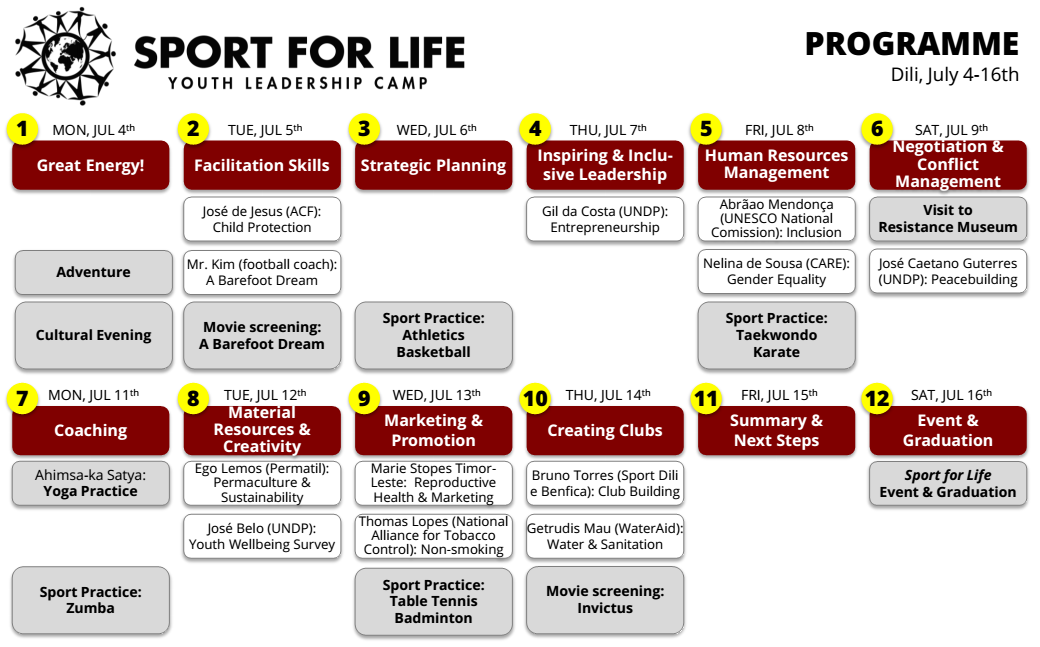 The two weeks culminated on July 16th with a non-competitive Sport for Life event at Jardin de Borja (Motael, Dili). Around 400 participants, mostly school kids, could play a variety of different sports in one place: Aikido, Athletics, Badminton, Basketball, Beach Tennis, Boxing, Football, Gymnastics, Karate, Laser Shooting and Laser Run, Table tennis, Volleyball, Zumba, with several Adapted Sports (e.g., Frisbee, Baseball) inspired on Peace and Sport's Adapted Sport Manual (kids could actually learn how to create their own sport equipment on the spot at a special Adapted Sport station in the event).
Participants' feedback & commitments
Participants' feedback was very positive and they made promising commitments at the end of the Camp, which SportImpact will follow up on:
On average they rated Camp sessions with 4.2 (scale 1 to 5), with the following top sessions getting scores above 4.5: Adapted Sport Manual (Material Resources), Reproductive Health (Marie Stopes Timor-Leste), Club Building (with MOVE), Coaching
88% reported that the Youth Leadership Camp was very important to them
94% that they have met new people in the Camp with whom they will be in touch in the future
69% pledged to open a new club in their municipality
67% pledged to organize a sport event in their municipality in the coming month
While challenging to obtain meaningful measures of this kind of indicators (see charts), participants' responses to questions before and after the Camp suggest improvements in feelings of happiness, leadership, creativity, and comfort in public speaking. Self-confidence to do what they want does not show much difference – perhaps they feel challenged with the commitments made in the Camp:
Participants pledged to replicate the project in their municipalities, bringing Sport for Life to the sub-municipality (postu administrativu) level. It is an ambitious plan (calendar below), for now including 24 workshops and events in 8 of the 13 municipalities of the country (missing Dili, Viqueque, Lautem, Liquiçá and Ermera – the three last ones because they did not send any participant to the Camp). One goal is to celebrate National Youth Day (Nov 12th) with as many sport events as possible around the country.
They also committed to creating sport clubs with regular training sessions in their communities. SportImpact will be providing coaching support to ensure implementation for maximum impact, and welcomes contributions from partners who may want to work with the young facilitators around the country.
SportImpact scheduled a 2nd edition of the Sport for Life Youth Leadership Camp in Dili for Nov 29th to Dec 10th. SportImpact is also considering replicating the initiative in Cabo Verde before end of the year, and is open to organizing similar initiatives elsewhere with appropriate partners.
Guest speakers & facilitators
Camp participants were privileged to learn from and be inspired by generous guest speakers and facilitators who shared their lives, their time, their energy on a variety of important topics: José de Jesus (Founder of Action for Change Foundation) on Child Protection, Mr. Kim (National Youth Football Coach) on the film on his work to make dreams come true ('A Barefoot Dream'), Abraão Mendonça (Social Science Coordinator at UNESCO National Commission) on Social Inclusion, Nelina de Sousa (Gender Officer at CARE International) and team on Gender Equality, from the United Nations Development Programme Gil Naldo da Costa (Head of Sustainable Development) on Entrepreneurship, José Caetano Guterres (Project Manager at Crisis Prevention Unit) on Peacebuilding, José Belo (Head of Resilience Building Programme) on the Youth Wellbeing Survey, Ego Lemos (Founder of Permatil) on Permaculture and Sustainability, Mariano Tomé and team (Marie Stopes Timor-Leste) on Reproductive Health and Marketing, Thomas Lopes (National Alliance for Tobacco Control) on Non-Smoking, Bruno Torres (Sport Dili e Benfica) on Building a Sports Club, Getrudis Mau (WaterAid) on Water and Sanitation.
Key partners & supporters
SportImpact thanks UNESCO Jakarta for providing financial support to make the Camp viable. SportImpact and UNESCO are working together to codify the approach and lessons from the project in order to disseminate it around the world, encouraging interested parties to get in touch for collaboration. UNESCO also contributed with video and photo coverage of the Camp and event, through two volunteers from Padang, Indonesia – Ridwan Rosman Syarif and Muhammad Hamzah.
SportImpact benefits from ongoing support from Peace and Sport, MOVE and Sport Dili e Benfica, as well as several individual volunteers, including all Camp participants who organized the sport event and are now working to 'pay it forward' in their municipalities.
Contributions for activities
Participants in the event and the workshop practiced different sports thanks to generous collaboration from Ahimsa-ka Satya (Yoga master), Maryam (Zumba teacher), Timor-Leste Aikido Federation, Timor-Leste Athletics Federation, Timor-Leste Badminton Federation, Timor-Leste Basketball Federation, Timor-Leste Boxing Federation, Timor-Leste Karate Federation, Timor-Leste Para-Table Tennis Federation, Timor-Leste Taekwondo Federation and Timor-Leste Volleyball Federation.
Marie Stopes Timor-Leste provided an ideal venue for the 12 intense days: the workshop room and equipment at its headquarters in Dili. It also facilitated a session in the workshop and ran a station in the event on Reproductive Health, promoting its menstruation kit and Liña Foinsae (free youth support call centre), and provided tables for table tennis practice.
Sport Dili e Benfica offered a guided visit and explanation about the club, and was the ideal setting to start the session on how to build a club, besides being one of the stops in the 'amazing race' adventure on the first day of the Camp.
The Modern Pentathlon International Union offered a pair of laser pistols and targets that enabled the first ever Laser Shooting and Laser Run (shooting + running) activity in Timor-Leste.
The Priest of Motael Parish, Pe. David Alves, and Motael local authorities, gave permission to use Jardin de Borja for the Sport for Life event – an excellent venue particularly due to the trees providing a cool shade, which allowed the event to extend until 1pm.
Resistance Museum provided a guided tour of the museum, helping Camp participants reflect on how the new times of Timor-Leste independence may suggest a transition from a "To Resist is to Win" to a "To Collaborate is to Win" mindset.
About Sport for Life
The Sport for Life project is composed of two key activities:
Course "Guide to Organize a Sport Event": Five-day workshop to build the capacity of local youth leaders, club leaders, physical education teachers, etc., and empower them to run their own initiatives without depending on others' support.
Sport for Life Event: Multi-sport event co-organized with course participants, promoting sport as a tool for human development. These events bring together public and private organizations for a joint initiative where kids from local schools, and other community members, try a variety of sports in one place
About SportImpact
SportImpact is a social enterprise that promotes human development through sport, with projects in Timor-Leste and Cabo Verde.  SportImpact welcomes new partners and sponsors who see value in these activities and may want to share their relevant messages in workshops and events, taking advantage of dozens of young leaders and hundreds of kids having fun and being receptive to new messages and activities.
For more information about 'Sport for Life' initiaves and Sportimpact: www.sportimpact.org | www.facebook.com/sportimpact.org  | Annual Report
Contacts: events@sportimpact.org, Tel. +670 7801 4000 (Timor-Leste) | +238 937 6577 (Cabo Verde)