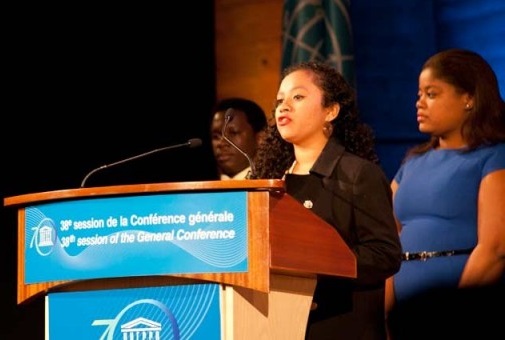 Virginia da Graça
Virginia de Graça is SportImpact's Master Facilitator and Coordinator of the Sport for Life project in Timor-Leste. She leads a movement of young volunteers from municipalities around the country, training them on facilitation skills and coaching them to replicate the project in their communities. She transmits her energy, passion and commitment to SportImpact's mission, inspiring everyone to take action to develop Timor-Leste and its people, starting with ourselves.
Besides her constant positive energy, Virginia is a fast learner and has developed outstanding facilitation skills over years of facilitating and teaching in different settings. At SportImpact she benefits from regular one-on-one coaching and extensive practice. A strong believer in truly empowering participants, she has developed solid questioning and coaching skills and created SportImpact's 5-step methodology for powerful facilitation. In the last few years she has co-developed and facilitated over 1,000 hours of training sessions, besides being guest speaker in national and international events. This includes workshops and retreats for organizations like UNDP, Marie Stopes, and GIZ/Ambero.
With Sport for Life Virginia launched and provides the inspiration and energy for a true youth volunteer movement in Timor-Leste: over 1,300 youth trained to organize sport events at zero cost, and dozens have become project multipliers, replicating it in their communities on their own.
Virginia was Timor-Leste representative to the 9th UNESCO Youth Forum, at UNESCO in Paris, in 2015. She was trained by UNESCO as a peer facilitator to lead sessions with other youth from around the world. She was also selected as representative of the Asian youth to the subsequent UNESCO 38th General Conference. In 2016 she represented SportImpact in UNESCO's Stakeholders Forum in Jakarta, and took part in the 22nd Asia Pacific Youth Conference (Bandung, Indonesia) and in One Young World Summit (Ottawa, Canada).
Virginia is constantly creating opportunities to learn more and is deeply committed to influencing the local community with her experience, knowledge and skills. An entrepreneur, she founded 'Centro da Graça' to teach English and Portuguese to underprivileged kids in her community, and launched zumba sessions to connect people and help heal strained relationships, particularly between women. She is also maestro and accounting officer in her parish.
Previously, Virginia was a volunteer teacher of English at Grace for Development, and Portuguese and Public Management at Action for Change Foundation. She also volunteered at National Rehabilitation Centre, taking care of people with diverse disabilities, helping them improve through physiotherapy.
Virginia speaks fluent Tetum, Bahasa Indonesia, English and Portuguese. In her free time she likes to dance zumba, and to play table tennis and badminton.