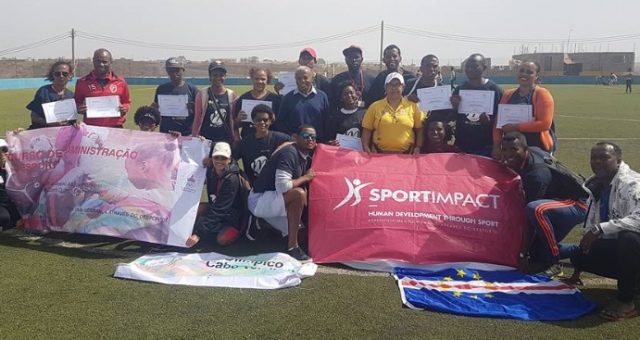 Sport for Life Newsletter | March 2018
Sport for Life continues multiplying!
Timor-Leste youth ran a world record of 53 Sport for Life activities in 2017 (with the lowest budget ever), founded their own Sport for Life Association, and just launched the Women Power initiative. Our fabulous facilitators can be hired for energizing experiences to empower teams to do more with less.
In Cabo Verde, the National Olympic Committee continued the project with M-Olympics (focusing on gender equality) in 2017, and has launched a new initiative in 2018 to create Olympic Clubs in all islands.
Sport for Life has to date trained over 2,000 youth and sport leaders and engaged more than 30,000 kids in multi-sport activities in Timor-Leste and Cabo Verde.
Silvina Amaral participated in the UNESCO Funshop in Manila in November to promote Sport for Life in Southeast Asia.
The Sport for Life Manual is now available in English, French and Portuguese for easier implementation around the world.
And the Sport for Life Map has been updated with all activities so far.
Uff!
Thanks to all supporters, particularly to all volunteers, UNESCO, INOV Contacto, and the Cabo Verde Olympic Committee.
Timor-Leste: world-record Sport for Life activities in 2017!
In 2017 young Timorese volunteers organized, with almost zero resources, more Sport for Life activities than had been organized in Timor-Leste and Cabo Verde together in the previous two years. The true volunteer spirit of Timorese youth enabled more activities than ever in the year where SportImpact's budget was the lowest ever ($17k), getting closer to the '$0 model' of doing the most with very little funds.
In summary:
73 facilitators from most municipalities trained in 5 Sport for Life Youth Leadership Camps
Volunteer facilitators organized 48 Sport for Life editions around the country at nearly $0 cost
Total of 934 participants in Sport for Life courses (43% women) and 7,000+ kids in events
All these activities made Sport for Life much more inclusive, as it reached young people in remote areas of the country, typically with very limited if any opportunities for youth skill development or sport activities. Just check for yourself: zoom in the Sport for Life Map and see how remote (far from main roads, and far from the capital and the capitals of municipalities) many Sport for Life locations are. Of course, this has led to smaller courses (with fewer participants) and smaller events (with fewer kids, often less than 100).
Where we see particular room for improvement is in making sport activities regular – for instance weekly – instead of one-off. So far this has been achieved in just a couple of locations, where Sport for Life facilitators organize sport activities for school kids every Saturday.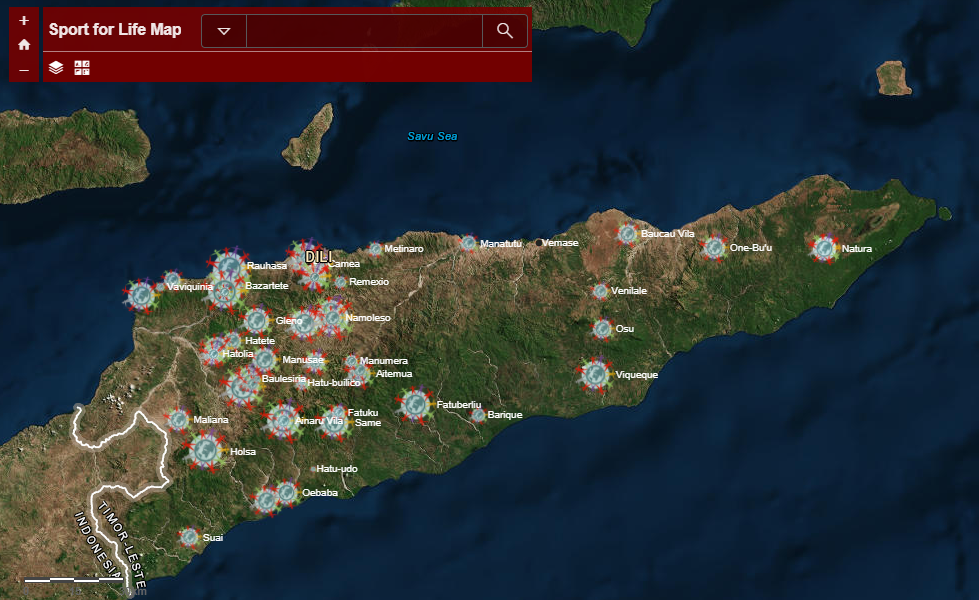 Timor-Leste youth launch their own Sport for Life Association (ADBM)
On 10 December 2017, Sport for Life youth volunteers from all municipalities of Timor-Leste convened in Becora (Dili) for a General Assembly to form Asosiasaun Desportu ba Moris (ADBM; Tetum for "Sport for Life Association").
Members elected their first leaders, who now have the mandate to continue spreading Sport for Life and its volunteer movement to all corners of Timor-Leste. ADBM will also be launching new initiatives, including Feto Power (see below) and the Sport for Life Training Centre (see photo) in Becora, which offers regular training opportunities to Timorese youth.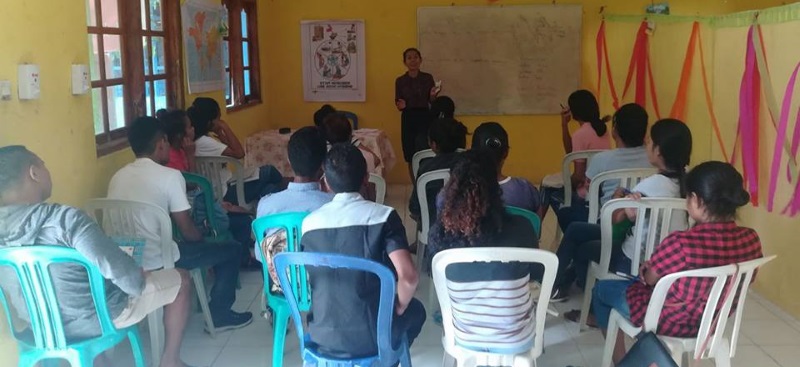 Sport for Life Training Centre in Becora (Dili, Timor-Leste)
ADBM launches Feto Power ('Women Power')
In February, Asosiasaun Desportu ba Moris (ADBM) launched a new initiative called Feto Power (Tetum for "Women Power").  This is a variation of Sport for Life focused on girls.
While in the last three years female participation in Sport for Life courses increased (from 28% in 2015 to 43% in 2017), it remains challenging to recruit girls who graduate from Youth Leadership Camps (YLCs) and become active facilitators (28% female participation in YLCs).
Feto Power is an experiment where ADBM will create safe spaces for girls to connect and learn with each other, able to discuss issues in a more comfortable environment, and to challenge themselves to take leadership and become role models for other girls. Similar to Sport for Life, it includes one-week Feto Power courses (starting in Dili in March and then covering most municipalities over the rest of the year), two-week Women Leadership Camps to train peer facilitators who will become project multipliers around the country, and Women Master Facilitators training, to train trainers of trainers. The plan and format will be adjusted as appropriate according to initial results.
Please contact Asosiasaun Desportu ba Moris (contacts at the end) to collaborate or learn more.
Feto Power event in Becora (Dili, Timor-Leste) on 3 March 2018
Cabo Verde: gender equality in 2017, Olympic Clubs in 2018
In Cabo Verde, the National Olympic Committee (COC) is unstoppable. It is taking Sport for Life always citius, altius, fortius (faster, higher, stronger) and promoting true Olympism.
In 2016, with direct SportImpact coordination, COC organized VerdeOlympics (Sport for Life initiative focusing on environmental sustainability) in all 9 inhabited islands. In 2017, with limited SportImpact support, it organized M-Olympics (focusing on gender equality, successfully raising women participation from 22% in 2016 to 46% in 2017) in 8 islands, with local VerdeOlympics alumni as facilitators. In 2018 activities will be further institutionalized by creating Olympic Clubs in each island. Initial results are mind-blowing, as spontaneous proposals for new Olympic Clubs started appearing unexpectedly.
Thanks to Olympic Solidarity for the continuous support to these initiatives!
Please consult the Cabo Verde Olympic Committee's website and Facebook page to learn more.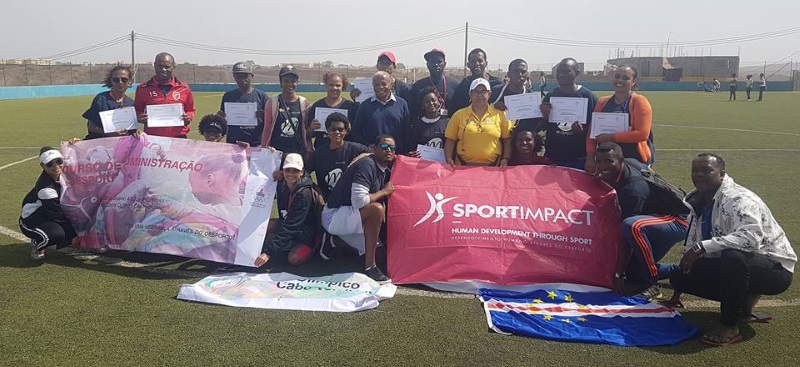 Sport for Life event in Praia (Cabo Verde) on 3 February 2018
Silvina Amaral promotes Sport for Life at UNESCO Funshop
Silvina Amaral Mendonça, Sport for Life Master Facilitator in Timor-Leste, took part in the UNESCO Sport and the SDGs Youth Funshop, in Manila (Philippines) from 8 to 10 November 2017.
Silvina presented the Sport for Life project to youth from all ASEAN countries (Brunei, Cambodia, Indonesia, Laos, Malaysia, Myanmar, Philippines, Singapore, Thailand, Vietnam) and networked to learn about their projects. It was an excellent opportunity to promote the Sport for Life movement and stimulate interest for implementation in other countries in the region. Silvina is now part of a vibrant 'task force' – a network of youth participants looking forward to generating impactful sport-for-development initiatives in Southeast Asia in the follow up to this Funshop.
Thanks so much UNESCO for organizing!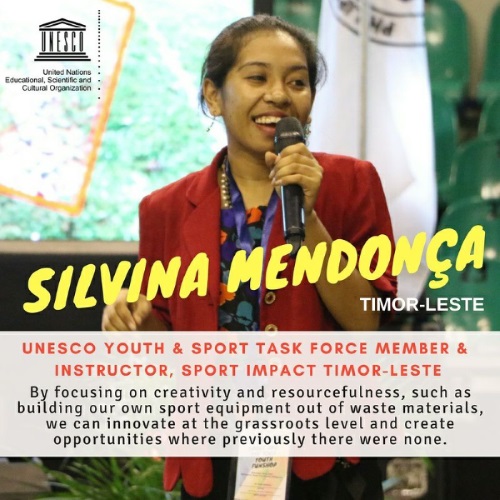 Hire SportImpact facilitators to energize your team!
Leveraging the outstanding facilitation skills developed over hundreds of Sport for Life course days (almost 500 just in Timor-Leste), and the incredible resourcefulness  and do-it spirit necessary to make it happen no matter what, our Facilitators can be hired by other organizations to run engaging and inspiring workshops, retreats, dialogue sessions, etc. As part of our social enterprise model, revenues from these services help fund Sport for Life activities.
Based on careful needs assessment, we design experiences that address diverse learning preferences through a variety of methods: videos, exercises,  discussions, amazing races, and other! Our powerful 5-step facilitation methodology stimulates participants to take ownership of their own learning and development.
Hire us for super engaging, inspiring and energizing experiences customized to empower teams to do more with less.
Learn more here (including testimonials from our clients).
Sport for Life Manual now in English, French and Portuguese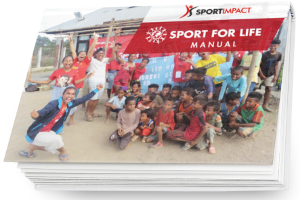 To make it easily accessible to more people around the world, SportImpact has launched the Sport for Life Manual in three languages: English, French and Portuguese. The Manual is a how-to guide to launch and manage a Sport for Life initiative easily anywhere. It is part of the Sport for Life Startup Kit, which also includes the Sport for Life Drive – a library of hundreds of ready-to-use documents, including all presentations and materials from our workshops.
SportImpact's Master Facilitators are available to help launch Sport for Life initiatives in new countries. Do get in touch through this application form if you'd like to explore hiring us for a train-the-trainers or a larger launch project.
Sport for Life Map updated with all 2017 activities
The Sport for Life Map now includes all activities* in Timor-Leste and Cabo Verde in years 2015, 2016 and 2017. Click on Sport for Life icons on the map to get more information about each initiative (place, date, facilitator name, number of participants, % women, number of kids in events, number of sports, etc.).
*Based on reports received. There were other activities but we have not received details to include in the Map. If you organize a Sport for Life activity, please report it here for inclusion in future updates [aqui em português].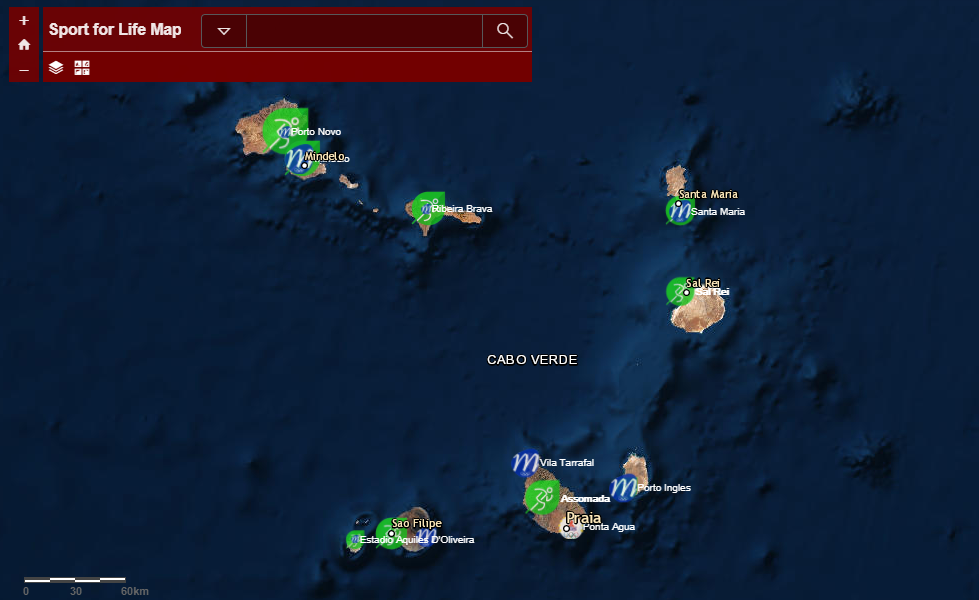 Thanks to our key partners and volunteers
All this would not be possible without the generous support of our partners and volunteers, to whom we thank deeply, in particular:
All youth volunteers and facilitators in Timor-Leste and Cabo Verde
UNESCO for financial support to Sport for Life in Timor-Leste in 2015-2017, and for the video coverage
The Cabo Verde Olympic Committee for the productive partnership launching Sport for Life and continuing it, besides the ongoing inspiration with multiple initiatives and proposals to take Sport for Life always citius, altius, fortius and promote true Olympism
AICEP – INOV Contacto for the consultant who developed the Sport for Life Manual & Startup Kit
2016 crowdfunding contributors – thanks to ever-increasing efficiency, your funds are still being used to continue multiplying Sport for Life in Timor-Leste!
Suku Camea (in Dili, Timor-Leste), who has provided excellent training facilities to many Sport for Life activities since mid-2017
Sport Dili e Benfica for our headquarters in Dili
All the Youth Leadership Camp partners contributing with sessions and resources
Special thanks to António Simão, who wrote a lot of the Sport for Life Manual and coordinated the complete preparation of the Startup Kit in all languages. To João Girão, who launched Sport for Life in Timor-Leste in 2015 and coordinated the first international replication in Cabo Verde in 2016, besides preparing the basis for the Manual by codifying the Sport for Life approach in our Annual Reports 2015 and 2016. To Léo Moreau, who translated the whole Manual and Drive materials to French and half of the Manual to English.
Would you like more frequent news from us?
Consider volunteering to run our Media & Communications activities! It can be a home-based responsibility with flexible and limited time demands. It requires a self-driven person, committed to 'making it happen', proficient in English, able to write posts/articles, passionate for human development, and with initiative and patience to chase everyone involved in Sport for Life to provide news, data and images. Send your proposal to volunteers@sportimpact.org and follow up as necessary to make it happen.
About SportImpact
SportImpact is a social enterprise that promotes human development through sport, with projects in Timor-Leste and Cabo Verde, and looking for partners and sponsors to launch Sport for Life in new countries.
Contacts/more information: www.sportimpact.org | www.facebook.com/sportimpact.org | SportImpact TV on Youtube | Annual Report 2016 | press@sportimpact.org
About Sport for Life
Sport for Life is a volunteer movement of youth empowering themselves to take charge of their lives, their communities, their countries and the world. Through sport, we are creating a world where everyone is empowered to fulfil their potential, their purpose, their dreams.
The Sport for Life project is composed of two key activities:
Youth-led Sport for Life courses and train-the-trainers plus practical project roles where youth gradually develop as managers, facilitators and leaders
Youth-organized multi-sport, multi-theme activities allowing kids to sample different sports and experiences that teach positive values and habits
More information: www.sportimpact.org/sport4life | www.sportimpact.org/startupkit
About Asosiasaun Desportu ba Moris
Asosiasaun Desportu ba Moris (Tetum for Sport for Life Association) is a youth association founded in 2017 by young Timorese volunteers, with the aim of continuing to spread the Sport for Life approach and values to all parts of Timor-Leste.
Key contacts at Asosiasaun Desportu ba Moris: